ABOUT TED BAKER MEAT PROCESSING
We are Great Custom Meat Processors… which means your meat is Your Way.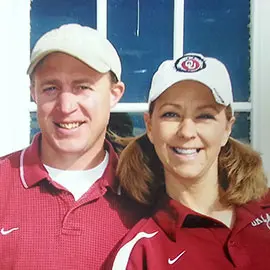 CUSTOM PROCESSING DONE RIGHT
Our custom cutting and processing business continues to grow, and we are so very thankful for our loyal customers! If you are a first-time customer, we welcome doing business with you and thank you for trusting us with your beef.
TED HAS BEEN IN BUSINESS FOR OVER 30 YEARS.
Many of you may remember Babes Meat Market which was owned by Ted's father. Ted worked there and then managed one of the markets on Colorado Avenue back in the late 80s. Later he worked at G&C, and then managed several Safeway Stores before going out on his own in 2000.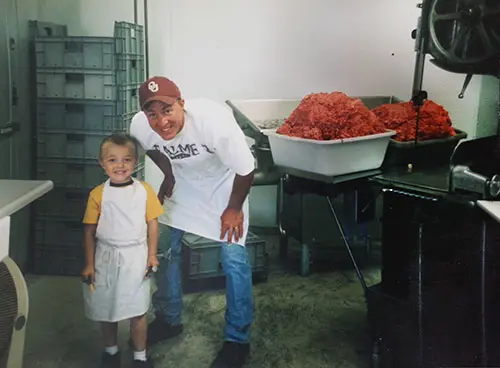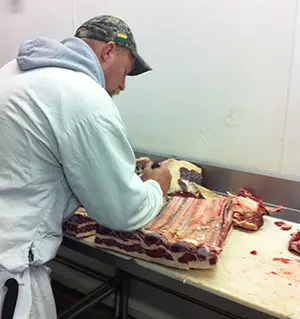 With Ted's experience in retail, we've tried hard to produce a retail look for all our custom work. We believe that regardless of your beef's origin, that beef grown by an independent grower, slaughtered, and then dry-aged and custom processed is the most natural, high quality, best-tasting way to supply beef to the customer. All of our products are hand wrapped in the highest quality freezer paper and hand-stamped the old-fashioned way.
WE BELIEVE THAT ONCE YOU TASTE BEEF PROCESSED TO YOUR INDIVIDUAL LIKING AND ENJOY A FREEZER FULL OF IT, YOU'LL NEVER GO BACK TO BUYING BEEF IN THE GROCERY STORE.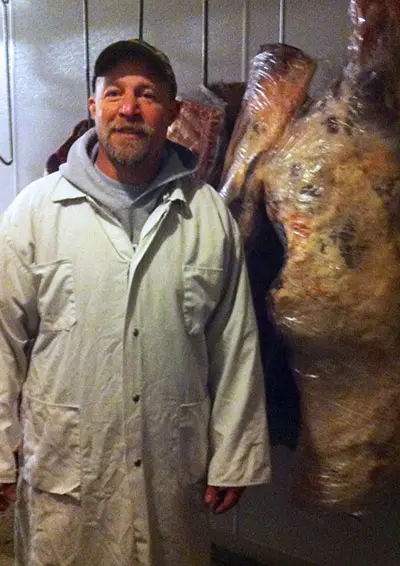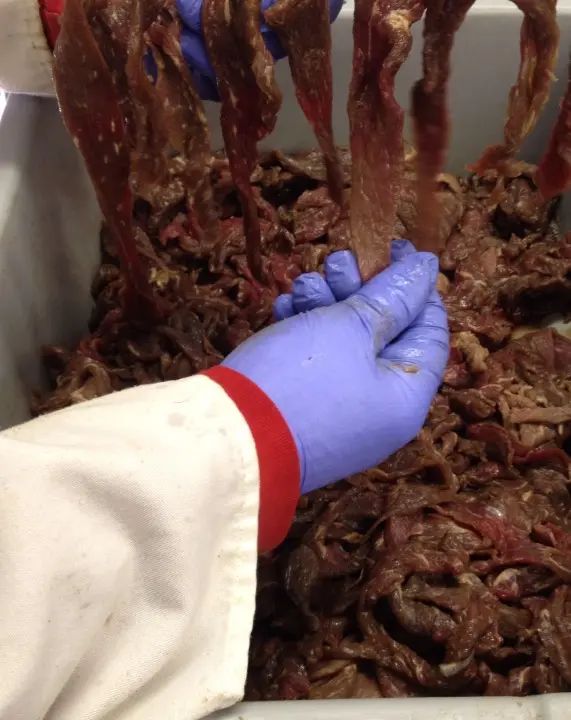 If you are simply browsing our website and we've peaked your interest or if you are interested in purchasing a just a side of beef or a whole cow, let us know. We'd be happy to connect you with a grower that we highly recommend.
CONTINUING TRADITIONS
Business started: Antelope season, 2000
We started with 1 cutting table, a small card table to wrap meat, and a table-top meat grinder. We worked 14-16 hour days, and sometimes through the night during Hunting season.
Today:
We have commercial equipment, 2 freezers, a smoker, and we only hire the BEST meat cutters for the hunting seasons. We still have some 14-hour days, but no all-nighters—we've learned to pace ourselves!
We are still that same Mom & Pop Shop that all our customers have come to depend on. Many of you know us as Wild-Game Processors, but what you may not know is that we also process and provide quality Beef, Hogs, Goats, and Lambs.